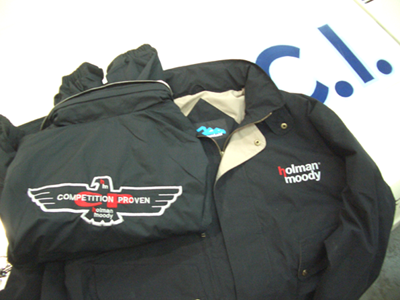 Offered in Black with Khaki Trim
Only $129.95! each
We have these sizes in stock and ready to ship!
Small, Medium, Large, Extra Large, and XX Large.

---
Collectible Patches
---
Reunion patches for the GT 40 win at Le Mans.
The reunion patch is $10.00.
This oval patch was used on all the 1968 & 69 team shirts.
The 1969 oval team patch is $10.00
This small square pocket patch was used on the early 1964 to 67 race team shirts.
This 1965 team patch is $12.00.
This large square patch was used on the backs of the race team shirts from 1964 to 1967.
The large square back patch is $37.50.
---
Click here if you would like to go back to the home page.
.
---
---
No Paypal account? NO Problem! You do NOT have to sign up for Paypal to order online. You can pay through Paypal using your credit card or debit card.
---
Hazardous Material Warning
WARNING WARNING
Some products offered on this web site may contain chemicals known to the State of California to cause cancer and reproductive harm.
Air filters, assembly oil, Heat Shields, decals, gaskets and other items shown may also contain other chemicals known to the State of California to cause cancer.
Wash hands after handling. For more information, visit www.P65warnings.ca.gov.
---
© 1997 - 2019 Holman & Moody and Holman Automotive
Shop Address: Holman Automotive Inc.,
9119 Forsyth Park Drive, Charlotte, NC 28273
---

,

,

are
Registered Trademarks of Holman & Moody. Inc.
---
Questions or Orders, call (704)583-2888 or
Contact Us via Email
Fax number (704)583-2890